by
Ewan Murray
guardian.co.uk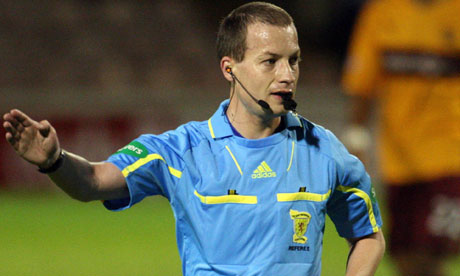 The referee Willie Collum received threatening phone calls to his home after Sunday's match between Celtic
and Rangers. Photograph: Lynne Cameron/PA
Scottish football fans who make threatening phone calls to referees could be punished by up to five years in prison, the procurator fiscal has said.
It has been revealed that Willie Collum, the referee for Sunday's Old Firm derby, received threats in calls made to his home after Rangers beat Celtic 3-1 at Parkhead.
Scott Pattison, the director of operations for the crown office and procurator fiscal service, said today: "There have been reports in the media which allege that the referee in Sunday's Old Firm game and his family have received threatening phone calls.
"Lest there be any misunderstanding, conduct of this nature constitutes a criminal offence which is punishable by imprisonment. New legislation under the Criminal Justice and Licensing Act came into force on 6 October and created a new offence of behaving in a threatening or abusive manner.
"This offence covers telecommunications and, if convicted on indictment, carries a sentence of up to five years' imprisonment or a fine or both. Those who commit such offences will face the full rigour of the law."
Another official, Dougie McDonald, will learn on Friday if any action is to be taken regarding his performance during Celtic's win at Dundee United 10 days ago. The reversal of a penalty award to Celtic during that encounter has caused ructions, with the assistant referee involved already having tendered his resignation.
The matter has been passed to the Scottish FA's referee committee, which includes six former referees in a seven-man panel. McDonald is regarded at this stage as unlikely to have any serious sanction imposed on him.
original article