By Shannon Proudfoot, Postmedia News
Sidney Crosby: Humble Canadian superstar who carries his team on his back through big games and isn't afraid to get his hands dirty in the corners, or prima donna who lived in Mario Lemieux's house just a little too long and whines to the refs about a paper cut?
Pundits and fans have branded the Pittsburgh Penguins captain with both reputations over his six seasons in the National Hockey League, and a new study examines those different versions of Sid the Kid and how Canadians see their national identity reflected in him -and those Tim Hortons commercials.
"He is celebrated as the saviour of hockey. There's a lot invested in him as the replacement to Wayne Gretzky and in terms of national identity. It's been a long time since we've had a true Canadian superstar hockey player that we can rest a lot of national hopes on," says Kristi Allain, a sociologist at Trent University in Peterborough, Ont.
"The way he's presented in the media, in some ways, tells a story about what we think it means to be Canadian: hardworking, honest, softspoken, polite, tough when we need to be, fair."
For this study, Allain combed through newspaper and online articles, Hockey Night in Canada and Coach's Corner broadcasts and online fan comments during the 2008-09 season, which culminated in Pittsburgh winning the Stanley Cup.
The official version of Sidney Crosby is the best of Canadian identity on skates, she says, with No. 87 lauded as a hardworking, heartfilled role model who's attained near-superhero status since scoring the "Golden Goal" at the Vancouver Olympics a year ago.
But at the same time, some fans and pundits have critiqued Crosby as "a whiny, emasculated character who is dependant on his paternalistic relationship with Mario Lemieux," Allain writes.
Gretzky was the target of similar criticism during his career.
Coach's Corner host Don Cherry scornfully dubbed Crosby "Golden Boy" when he first entered the league and criticized him for "yapping at the referees" and not knowing his place. (This is not the first academic paper to cite Cherry; others have examined francophones, immigrants and discrimination in hockey.) HBO's four-part series 24/7 Penguins/Capitals: Road to the NHL Winter Classic aired earlier this year, offering unprecedented access to players and on-ice action, including a front-row seat for a shrieking, profanity-laced tirade Crosby let fly on a referee over a disputed play.
"His role as the redeemer of professional hockey has not been without challenges," Allain notes mildly.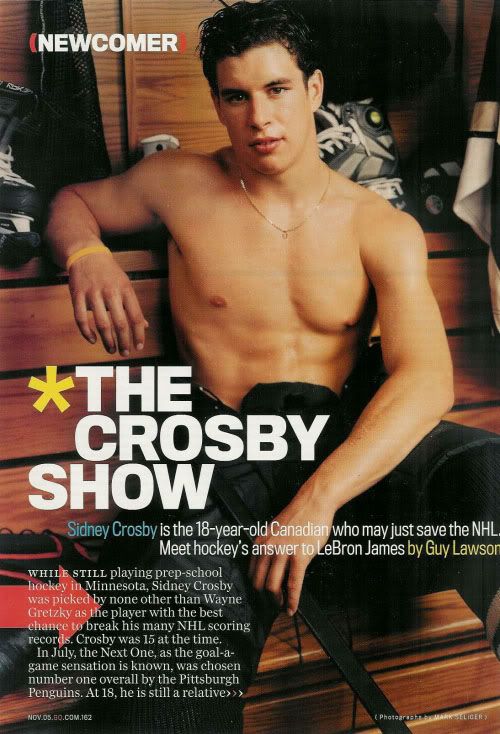 But Tim Hortons and Crosby -who appears in the coffee chain's commercials and is spokesman for their Timbits minor hockey program -go together like a double-double and a cruller when it comes to Canadian identity, she found. The company's ads with the hockey star are packed with pine-trees-and-snow Canadiana, depicting a nation "full of unassuming heroes who are either oblivious or at least unchanged by their celebrity status," Allain writes.
"If Canadians were looking for a pro athlete to be proud of and to be an ambassador for their game, Sidney is the perfect guy," says Garry Galley, a former NHL player and Hockey Night in Canada analyst.
"His passion for the sport -which is a religion in Canada almost -is similar to what Wayne's was."
read the entire story
here