As he enters final NHL season, referee Dan Morouelli shares some stories with us
Dan Marouelli had a request. Let him start his final NHL season in Helsinki.
Terry Gregson, the new director of NHL officiating, agreed. Marouelli kicked off his farewell season by working both Chicago-Florida games at Hartwall Arena.
"Terry Gregson was kind enough," the veteran NHL referee told me before we both departed Finland this past weekend. "It's a wonderful way to start the last year. It was spectacular."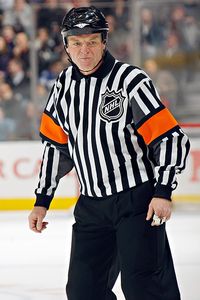 Dave Sandford/Getty Images
Dan Marouelli, who refereed his first NHL game in 1984, will retire after this season.
Marouelli will be joined in retirement by fellow vets Bill McCreary and Kerry Fraser after this season, three big names to leave the ice. Add in last season's retirements of Rob Shick and Don Koharski, and you're talking about a major transition for the NHL's men in stripes. Some well-respected and top-notch talent is making way for the kids.
"It's interesting to see the transition," said Marouelli. "It's fitting we're all leaving together and turning it over to the young guys now."
Just like Shick and Koharski last season, Marouelli, McCreary and Fraser will not work playoff games this season. Their final game will come in the regular season, which will allow for planning as friends and family attend what will be a special night.
Marouelli let me in on a little secret.
"My last game, it's going to be in Montreal," said Marouelli. "I might as well let the cat out of the bag. You're the first one to know."
The Edmonton native, who now calls Orillia, Ontario (north of Toronto), home, remembers working one of his first games at the old Montreal Forum in 1982. He broke in as a linesman.
"I remember that Wally Harris was the referee and Leon Stickle the other linesman," said Marouelli. "I still remember the Forum. And just the history of the Canadiens, being an Original Six team, I thought it was fitting to have it there."
Half his work load that season was as a linesman in the NHL and the other half as a referee in the AHL. Things are obviously done differently today, but Marouelli said having the chance to work as a linesman alongside some of the great veteran referees of the day allowed him to pick up a ton of pointers.
Two years later, in 1984, he refereed his first NHL game between Winnipeg and Detroit.
"I remember it was a 3-3 tie. I remember Danny Maloney was behind the bench for Winnipeg and I remember I believe it was Joey Kocur who one-punched Jimmy Kyte," Marouelli said with a chuckle. "I also remember how nervous I was, standing there for the anthem ... whoa."
The 2003 Stanley Cup finals between New Jersey and Anaheim was a very fond memory.
"I worked five of the seven games, and to have the league have that much confidence in me to do that, I know I had a really good year. It was really fulfilling," said the 54-year-old Marouelli. "But there's been so many fond memories. Being asked by Igor Larionov during the lockout to referee his retirement game in Moscow, that was special. I can't tell you what great lengths that man went through to have us all over and invite our wives as well."
A funny moment? Many, of course, but here's one that stands out over the rest.
"I remember one night on the Island, [legendary coach] Al Arbour, who never said much, was very unhappy with one young referee being me. I didn't know how to approach the man, I had so much respect for him. He started to use an F-bomb and out came his false teeth.
"He caught his false teeth and the spray caught me in the face. I said, 'I'm sorry, I'm not going to be talking to you if you're going to be spitting at me.' And I skated away. Lorne Henning was the assistant coach and he was having a chuckle. The players were all laughing. That was a pretty fond memory right there."
As part of the league's succession plan for retiring on-ice officials, Marouelli will work 60 games this season instead of 73.
"The other 13 will be made up by coaching some of the young kids in the American League and working with young officials," he said. "And as part of my 60-game schedule, I asked to work with people that had less than five years' experience. That way, I'll know whether I want to stay in the business and know whether I'm suited to that. Because not everybody can do it. And they'll know whether they want to have me, too. So we'll see where it takes us."
Hockey fans, maybe we should hold off on the curse words directed at this referee this season after a questionable call. We're losing a good one.